The best way to discover the Riviera Nayarita is to stay in Bucerias at
Hacienda Patrizia's Luxury Boutique Villa
Hacienda Patrizia's Luxury Boutique Villa rental is situated 20 minutes away from the Puerto Vallarta airport.
Our villa is located in the friendly Lazaro Cardenas neighbourhood in Bucerias and is easily accessible by car, bus, and taxi. There are a number of reasons to book Puerto Vallarta beach house rentals, in Mexico.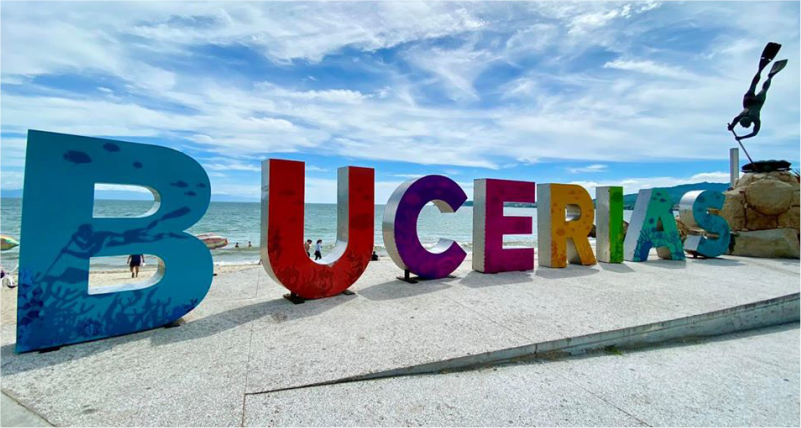 BUCERIAS
Only 20 minutes north of Puerto Vallarta, Bucerias is nestled towards the north shore of Bahia de Banderas. Once considered a fishing village, it has become a home and favorite vacation spot to many that like the slighter, quieter side of life. Our Luxury Boutique Villa is known for its slower pace yet has all the amenities that one needs to get away, get spoiled or simply be part of the local culture. Bucerias' 5-mile stretch of soft sandy beaches, cobblestone streets and heartwarming charm give you the feel of simpler times.
Some say (with a bit of nostalgia) that Puerto Vallarta was like this some 40 years ago. Founded in the 1930′s, Bucerias is now home to some 20,000 residents made up mostly of Spanish speaking Mexicans. Many from Canada and the US have also chosen to settle here. Our roads, many hand built – stone by stone! It's amazing to see, it carries the old world feel. You walk on it and realize "this was built by hand". You know you are experiencing Mexico when you see the town and how it was built.
Bucerias is on Central Standard Time (CST) and is the same time as Puerto Vallarta and the local airport!
For your convenience, we compiled a list of local tourist attractions that we highly recommended you try during your visit here.
We have included everything from the romantic to the thrilling – regardless of what you pick; your experience will be unforgettable. Simply browse our list; with an activity list this big, there's something for everyone!
SURROUNDED BY GREAT PLACES