Enjoy our concept of a Complete Luxury Boutique Villa just for you and your family or group. A main Villa and 4 Casitas that can accommodate 2 and up to 24 people. Low and high seasons minimum 5 days rental, holidays 7 days.
Explore and enjoy our Villa Boutique
Hacienda Patrizia it offers you: Villa Patrizia (Main Villa) it can accommodate up to 8 adults; "Casita Adelia & Casita Christina" are located on the ground floor and "Casita Carmen & Casita Sofia" are located on the first floor; it can accommodate up to 4 adults each casita.
Currently we follow all the protocols of protection against COVID-19, so we apply all the necessary hygiene rules to eliminate as much as possible the remains of any virus, we sanitize all areas of the hacienda and daily cleaning of rooms and common areas is carried out.
Traci P.
You must visit the Hacienda Patrizia!
We had a wonderful stay at the Hacienda Patrizia with a large group of 23 friends to celebrate two 50th birthdays! The place is amazing, but staff makes it that much more amazing! They are so personable and will go out of their way to make your stay the best! Polo is so attentive to your needs and will take care of anything and everything. Micah is the best bartender and the sweetest lady, while Reuben will cook you an amazing meal every time! We will definitely be back! Thank you so much to all of you for making our stay such a great experience!!!
Marty U.
Our stay at Hacienda Patrizia with Polo and staff for our annual family vacation in Feb, 2011 was so great that we returned the next year and it was even better. The villa is so comfortable and accommodating for our large extended family but Polo our house manager, Eric our cook, Jaido our bartender and Juanita our housekeeper are really what makes Hacienda Patrizia is so wonderful.
Lynette F.
Thank you so much for a beautiful stay! Our stay was for 2 weeks and the house is wonderful for the group we had. However the staff Polo, Chip, Eric and Juanita are what made it. This was our second stay with them and hope to stay nexted year again.
Welcome to Hacienda Patrizia
Hacienda Patrizia is a Luxury Boutique Villa with the old Mexican-style architecture.
Hacienda Patrizia, has a main villa and 4 individual casitas. The main villa has 4 master bedrooms with king size bed and en-suite bathrooms. The four casitas have 2 bedrooms each with queen/king size bed and en-suite bathrooms. The whole Hacienda has a total of 12 bedrooms which can host up to 24 guests.
♦ Main Villa: 4 master suites with king size beds and en-suite bathroom.
♦ Casitas: 4 individual casitas "Casita Christina" and "Casita Adelia" with two bedrooms each  with queen-size bed as well as own bathroom. "Casita Carmen" and "Casita Sofía", with two bedrooms each with a king size bed as well as own en-suite bathroom. 
Hacienda Patrizia and its staff welcomes its guests to enjoy and experience one of the most unforgettable vacation on the Riviera Nayarit in Mexico.
One of THE BEST PRIVATE and intimate Hacienda FOR YOUR FAMILY and friends VACATION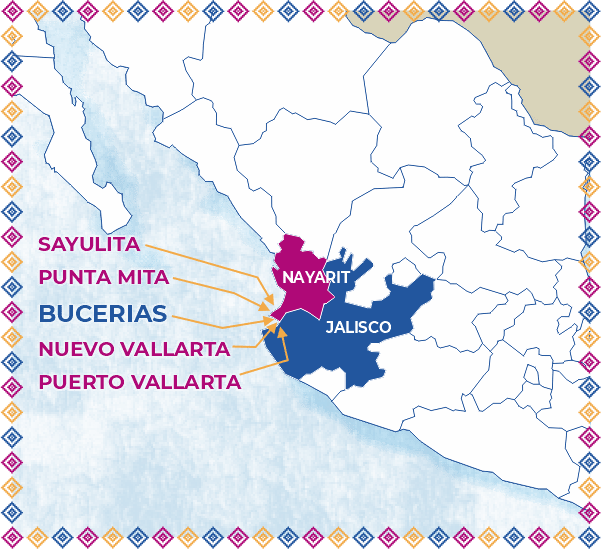 Stay with us at our luxury resort in
Bucerias north of Puerto Vallarta
Located conveniently close to the Puerto Vallarta International Airport. Steps away from miles of pristine beach and lively local culture. Visitors from around the world enjoy our spacious, luxury boutique Hacienda in Mexico, friendly atmosphere, superb and attentive staff members. We invite you to stay at our private villa, to take advantage of our affordable yet luxurious accommodations at any time of the year.
Weather conditions in Bucerias the next 4 days